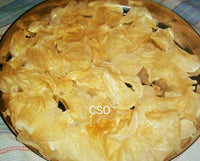 Karandi Vathal/ Rice vathal is an excellent combination of our South Indian meals.

Soaked rice ground to a smooth paste and diluted. Cooked by continuous stirring to a glazy consistency made to a thin round shape with Karandi ( Laddle)and dried in direct sunlight. This has 6 months of self-life.
Taste: Mild salt
Allergy Warning: None
Nature of the Food: Crunchy side dish
Lifetime: 180 days
Usage:  Vathal Oil Fry or Consume directly for your meal.
Best Suited for Side dish for Hot rice with Ghee, Sambar Rasam, and fried Rice varieties, Puli Kuzhambu
"No Gluten, No Artificial flavors or colorings, No Additives or Preservatives"