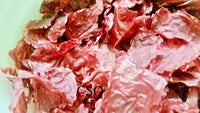 Beetroot Vathal naturally colored,  vathal with added nutritional values makes your meal very special. Feed vegetables in the most preferred form as a fried variety instead of store-bought chips item. Beetroot for its natural color.
Taste: Mild salt
Color: Vegetable extract color
Allergy Warning: None
Nature of the Food: Crunchy side dish
Lifetime: 180 days
Usage:  Vathal Oil Fry & Consume directly for your meal.
Best Suited for Side dish for Hot rice with Ghee, Sambar Rasam, and fried Rice varieties, Puli Kuzhambu
"No Gluten, No Artificial flavors or colorings, No Additives or Preservatives"