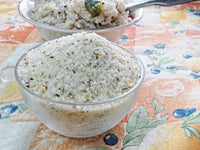 South Indian special. A simple and easy recipe to make at any time in a few minutes of effort. Quick and healthy kitchen right-hand, rice upma rava. Make Upma or Kozhukkattai, serve with Chettinad Idli podi, Sambar or Chutney
Recipe link provided to prepare delicious rice uppma:

Rice Upma Rava Ingredients: Rice, thoor dal, black pepper, and cumin in the right measurements. Ready to prepare, no need to soak and grind. 
Get the recipe here,