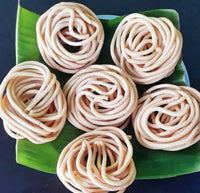 Chettinad Thengulal is crispy and hollow in the middle to feel its delicacy, mild-flavored suitable for all age groups. Irresistible taste.
Standard oil used-Sunflower oil
We have the option to select oil according to your interest in bulk order.
செட்டிநாட்டு சுவைமிகுந்த தேன்குழல்,  ஈடு இணையற்ற இந்த பலகாரங்கள் உடலுக்கு எந்த இடையூறும் விளைவிக்காத வகையில் முன்னோர்கள் நமக்கு கற்றுத்தந்த அற்புத சுவை.
Ingredients: Rice, Urad dal, Salt, and sunflower oil
How to make Thengulal? Link below
To reduce breakages on transit couriers you have a choice of box packing